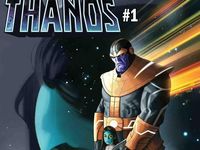 Jakarta
– Di awal 2019, Marvel Comics merencanakan merilis seri komik terbaru tentang Thanos. Lewat komik 'Thanos #1′, ceritanya bakal mengeksplorasi hubungan antara Thanos dan putri angkatnya, Gamora.
Komiknya ditulis oleh Tini Howard (Marvel Knight 20th' dan digambar Ariel Olivetti (Dearh of the Inhumans). Ceritanya akan bermula pada hubungan antara ayah dan anak perempuan.
Penulis komik Tini Howard menuturkan salah satu hal yang menarik dari komik ini adalah karakternya bertolak belakang satu sama lainnya.
"Thanos tidak baik-baik saja. Sebenarnya tidak ada rahasia tentang dia, Thanos brilian, dia tahu kalau dia gila dan dia orang gila yang menukar seseorang dengan suatu barang dan itu hal yang menyeramkan. Semua orang juga terlalu takut menanyakannya tentang itu dan dia tidak akan mengakui," ujar Howard dilansir dari Comicbook, Sabtu (12/1/2019).
Dia pun menaruh cerita di awal hubungan antara Thanos dan Gamora. Seorang anak perempuan yang pintar dan ayah yang pemarah.
"Ketika saya meletakkan cerita Thanos dan Gamora ini akan sangar personal. Saya berpikir ini seperti Sandor Clegane dan Arya Stark dari 'Game of Thrones'. Gamora bukan sekadar anak kecil tapi adalah perempuan yang berbahaya. Dan mereka berbagi momen bersama, tapi saya tidak ingin spoiler. Kenapa harus dia, kenapa harus Gamora," pungkasnya.
Rencananya komik 'Thanos #1' bakal terbit pada April 2019 mendatang.
Baca juga: Petualangan Spider-Man Berlanjut di Komik 'Friendly Neighbourhood'
(tia/dal)
Source : detik